Pregnancy is a time of immense change for a woman's body and mind. It is a time when self-care practices become even more important to maintain physical and emotional wellbeing. Ayurveda, an ancient Indian system of medicine, offers a holistic approach to pregnancy wellness that can help women navigate this transformative time with grace and ease. In this article, we will explore some of the Ayurvedic practices that can support a healthy, happy pregnancy.
Understanding Ayurveda and Pregnancy
Ayurveda is a Sanskrit word that means "the science of life." It is a system of medicine that originated in India more than 5,000 years ago and is based on the belief that everything in the universe is made up of five elements: earth, water, fire, air, and ether. According to Ayurveda, the human body is composed of three doshas, or energies, known as Vata, Pitta, and Kapha. Each individual has a unique combination of these doshas that determines their physical, mental, and emotional characteristics.
During pregnancy, a woman's body undergoes significant changes, which can disrupt the balance of the doshas. Ayurveda offers a range of practices to help restore balance and support optimal health during this time.
Ayurvedic Practices for Pregnancy Wellness
In Ayurveda, food is considered medicine. During pregnancy, it is essential to eat a balanced diet that supports both the mother and the growing baby. According to Ayurveda, the six tastes – sweet, sour, salty, bitter, pungent, and astringent – should be present in every meal to maintain balance in the body. Additionally, pregnant women should avoid processed and refined foods, spicy and fried foods, and excessive amounts of caffeine and sugar.
Herbal Remedies:
Ayurvedic herbs can be used to support pregnancy wellness. For example, ginger can help alleviate nausea, and fennel seeds can aid digestion. However, it is important to consult with a qualified Ayurvedic practitioner before taking any herbs during pregnancy to ensure safety.
Yoga is an excellent practice for pregnant women as it can help reduce stress, improve flexibility, and promote relaxation. However, it is important to practice yoga under the guidance of a qualified instructor who is trained in prenatal yoga.
Meditation:
Meditation is a powerful tool for reducing stress and anxiety during pregnancy. A daily meditation practice can help calm the mind and promote emotional wellbeing.
Abhyanga:
Abhyanga is an Ayurvedic practice of self-massage with warm oil. It can help improve circulation, nourish the skin, and promote relaxation. During pregnancy, a gentle abhyanga massage can help reduce stress and promote sleep.
Sound Therapy:
Sound therapy is a powerful practice for promoting relaxation and reducing stress during pregnancy. Listening to calming music or chanting mantras can help calm the mind and promote emotional wellbeing.
Rest and Relaxation: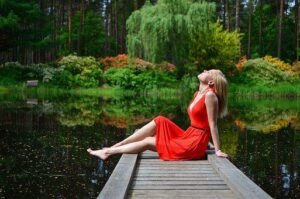 Rest and relaxation are essential during pregnancy. According to Ayurveda, pregnant women should aim to get plenty of sleep, rest, and relaxation to support the body's natural healing processes.
Oil Pulling:
Oil pulling is an ancient Ayurvedic practice of swishing oil around in the mouth to remove toxins. During pregnancy, oil pulling with coconut or sesame oil can help support oral health and reduce inflammation.
Aromatherapy:
Aromatherapy is the use of essential oils to promote health and wellbeing. During pregnancy, essential oils such as lavender, chamomile, and ylang-ylang can be used to promote relaxation and reduce stress.
Mindful Breathing:
Mindful breathing is a simple yet powerful practice for reducing stress and anxiety. Taking a few deep breaths and focusing on
If you have any queries related to medical health, consult Subhash Goyal or his team members on this given no:+91 99150 99575,+91 99150 72372,+918283060000